Social media tips are what we live for because Social media is an integral part of all marketing strategies. No matter your niche or sector, your presence on social media is a must. It helps create social proof and increase brand visibility. Your audience might not buy your products, but they will learn about how you function and what your brand is about.
I reached out to bloggers who have mastered their social media game and asked them about the social media tips they swear by. And they were more than happy to share their social media tips, which helped them stay on top of their game.
Check out these social media tips and implement them in your business:
7 Important Social Media Tips
Use Hashtags the right way
I say: There are very few ways to promote your content organically on social media. There are many ways, but since the algorithms are changing continuously, it isn't easy to keep up. But one thing you can rely on is hashtags. Wait, let me correct it—right Hashtags. If used correctly, your post can shoot up and have a good reach. But don't use banned hashtags like #Love or #Night. Go to your Social media search bar and type in your niche, and you will see a lot of posts. Now go to these posts and check what hashtags they are using.
Your hashtags should contain meaning like #SocialMediaMarketing #GraphicDesigner. Spend some time on this activity. Don't use the same set of hashtags in a single week. Switch them up. Use a few high-ranking (10M+), medium-ranking (10K+), and some low-ranking (1K–5K) hashtags. Mix them up and see what works best for you.
Interact with your audience
Gemma Lawrence from This Brits Life says: Social media is meant to be social, so be social. Make sure that you are always spending time interacting with your audience and generating engagement with your posts. This means that when you are creating content for your social channels, you need to always include a call to action.
Tell your audience how to interact with you. You could ask questions or run polls, quizzes, and giveaways. Also, spend time interacting with accounts that you follow. Don't just post your content and run. Go through your feed regularly and like, comment, save, or share other people's content. Your audience and the algorithms will thank you for it.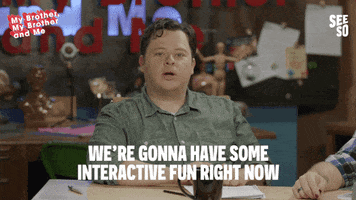 via GIPHY
Include keywords in your account profiles
Izzy Matias from IzzyMatias says: Make it easy for your ideal customer or ideal community member to find you on social media by including the keywords in your account bio or description. You can include these keywords in your username as well. For example, in my social media profiles, I included the keywords "full-time blogger" as well as the phrase "build a money-making blog" because I wanted those keywords to be associated with my account. If you're a social media manager and want to attract clients for your social media coaching business, then you'll want to include keywords like "social media coach" in your bio or description.
Have an ever-growing audience
Kody West from Digital Upline says: Whatever strategy you are using to grow an audience and send traffic to your blog, become a master at it. We can't just throw up a blog post and expect people to see it the way we used to. You have to get traffic from another source, such as social media, and when you become a master at that one source of traffic, it will never be an issue again. One way to do this is to ask questions and give people exactly what they are looking for. In return, they will share your content, and they will help you grow your audience.
Create Reels
Seriah Sargenton from Riyah Speaks says: Create 2-3 reels weekly. Reels are the latest feature on the Instagram platform, and they function similarly to TikTok. Instagram has changed many of its policies, which makes it more difficult for content creators and bloggers to generate organic traffic. Reels are the quickest way to draw attention to specific topics without boring the viewers. You can use them for sharing tips, affirmations, and more with your audience. Reels have the potential to triple organic Instagram traffic if used correctly.
Engage with Your Audience
Laura England from Latest With Laura says: You get out what you put in. Engaging with users who support you, share valuable content, and offer quality resources is key to building more engagement. Think of it as the law of attraction: you bring back what you attract, so if you engage for 20–30 minutes with 10 hashtags or 20 of your favourite accounts, leaving insightful comments, and even just sharing their content on your story, you're going to get engagement in return. Social media should be social!
Sharing Your Story
Samantha Laycock from Samantha Laycock Blogging says: There is power in your story that most people don't realise. Sharing your story through social media allows you to connect with your audience on a deeper level. It will also help you heal and grow as you continue on your journey while showing your followers how to heal and grow on their own journey.
Being yourself and sharing parts of your journey can be scary, but that is what your followers want. They want to know that you are a real person. They want to see behind the scenes of your life. They want to see the real and raw side of who you are as a human. People feel disconnected when you only show perfect moments. Show the moments that helped you become the person you are today, and your social media will change.
So what did you think about these social media tips? Share your thoughts in the comments section below. And share what social media tips you use in your business to grow.
Check out my other article on how to keep your social media updated.
Follow itisaditijain for actionable social media tips.
PIN IT!