LinkedIn is the biggest professional networking platform at the moment. Thousands and thousands of professionals use it to share their knowledge, experience, and wisdom with everyone out there. It is only advisable to optimze your LinkedIn profile at all times. Your LinkedIn profile acts not only as another networking platform but also as your resume.
No, LinkedIn is not just for jobs. It is to get leads for your business by communicating with like-minded individuals, becoming an authority in your niche, increasing brand visibility, reach, awareness, and more. It is not just a platform for marketers. It also consists of businesspeople, such as CEOs, Directors, IT Experts, etc.
It pains me when I see a bad or incomplete profile on LinkedIn. Because if you are investing time in making your resume, then why not LinkedIn? Many of those details are the same. LinkedIn gives you many more options to talk about yourself in a detailed manner, whereas that is not the case in a resume, which has to be kept to a minimum of 1-3 pages depending on your experience.
In this article, we are going to talk about how to optimze your LinkedIn profile professionally and keep it up-to-date.
7 Tips On How To Optimize Your LinkedIn Profile
Personal Details
Name:
Mention your name with the right spelling. e.g., Aditi Jain.
The first letter of the name should be capitalised. It might look basic, but still, many people end up making this mistake.
Pronunciation:
This feature is only available on the mobile app of LinkedIn.
You can record your name the way you pronounce it. That way, if someone doesn't know the pronunciation of your name, they might get some help from it.
Headline: Your headline shouldn't just be about your designation. It should contain information about what you do or how you help companies achieve what you do. Don't include more than three things. Like a social media marketer, Content writer, blogger, or recruiter for the Big Four companies.
Display Picture:
LinkedIn is for professionals, and therefore everything you include must be of the same standard. Include a professional photograph or just a headshot with no filters.
Cover Photo:
Use Canva for this section. Select a template of your choice and edit it with your details.
Country:
Mention the Country you belong to here.
Location:
Specify which region, State, City, or Town you belong to in the country.
Industry:
Select the industry you work in (like Accounting, Banking, Marketing and Advertising, Information Technology, Transport, warehousing, etc.)
Contact Details:
Do not forget to mention your Email ID and phone number (depending on you) here. You want people to reach out to you directly and on the spot, not wait around for you to reply to their messages and then give them your details. You can even include your blog's link in this section.
About
Consider this section your summary. Answer the Who, What, When, Why, and How of you.
Who are you?
What do you do?
When did you start doing this?
Why do you do this?
What inspired you to take the path that you're on?
How do you achieve your targets?
Answer these questions about yourself, and the About section should be ready. LinkedIn gives you 2000 characters for this section. Use it wisely.
Use Grammarly to check your spelling, grammar errors, and mistakes. And even after all this, if you still have trouble writing YOUR about section, check out other people who do the same work as you and see what they've written.
Featured:
Posts, Articles, Links, and media (Photos, Documents, and presentations)
This section is for featuring a post of yours that had a great reach or an article that you thought was your best write-up. You can even include items that you've published or a link to something you created, like a blog, or add media like images, a PDF, certificates, etc. that you think will highlight your work.
Background
This section includes your job and internship experiences, as well as your education. These should be in chronological order. The latest should come first, and then the oldest at the end.
Experience:
Now, when you are making your resume, you are restricted to one or two pages, and you have to be to the point. But that's not the case with LinkedIn. It doesn't even limit you if you have ten jobs. So go ahead and mention all of the internships you took and the jobs you took.
But remember, Internships are for a shorter duration, but that is not the case with jobs. If you have held positions for only a few months, it might be best not to include them, as it might give your employer the impression that you are not stable at your job. But if you think that the job is essential enough to mention, then go ahead.
Now don't just mention your Designation, Company details, or tenure and run away.
Take some time to write down the job description or the tasks that you were handling in the organisation. If you are not a writer, then get some help from your writer friend to help you draft this section effectively. If they are not available, then open the email you received while applying for the job. You will find the full job description in detail. Don't just copy-paste the content as it is. Please read it carefully and see what you did and any other additional responsibilities you took on. Then edit it as per your suitability.
You also have the option of adding various links related to your work here, or you can upload your document in this section.
Education:
Include the Schools you went to, the college, and the university where you got your Bachelor's and Master's degrees. You can also mention any diploma courses you took here.
License & Certificates:
This section includes the licences and certifications you have. Now don't go and put your school's cooking First prize in Fancy Dress certificates here. Mention only the credentials that are related to your field or will help you in your career.
If you have a LinkedIn profile with a company page, you can list the licences that your company has.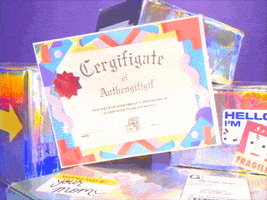 via GIFt Delivery on GIPHY
Volunteer Experience:
Have you worked with an NGO on a drive or volunteered at a CSR activity? This is the place to mention it!
Skills & Endorsements
Skills here don't mean whether you are kind or punctual. Here, it means skills that you have that are essential for your career. You can put up to 50 skills on your profile. You even have the option of rearranging skills in the order you want.
There are five types of skills.
Top Skills:
You can select any three skills you want, make them your top skills, and pin them to the top.
Industry Knowledge:
These are related to the industry you work in. These skills can be connected to Sales, Graphic design, Architecture, Engineering, Marketing, Human Resources, etc.
Tools and Technologies:
These will be technical skills. Like MS Office, Analytics, Database Management, Report Handling, etc.
Interpersonal Skills:
These will be communication, Empathy, Listening, management, etc.
Other Skills:
These will be a combination of all the skills.
E.g., If you're into Human resources, then it will be Recruitment, Employee Training, Payroll management, etc. If you are a Digital Marketer, then it will Be Search Engine optimisation (SEO), Google Advertising, Funnel, Automation, Email marketing, etc.
Endorsements:
You can endorse or support each other's skills by clicking on the plus sign. LinkedIn will ask you questions like, How well do you think that person is at that skill? And how well do you know that person? It is good to get endorsements from people you know and have worked with because it builds credibility.
Accomplishments
This is the place where you can show off all of your talents.
Publication:
Do you have an article that got published somewhere? Or were you mentioned in any of the articles or journals? Put it here.
Patents:
Created something new and got it patented? Put it here.
Courses:
Do you have any courses that you think deserve mention? Put it here.
Projects:
Have you been a part of a project or started a project that went well? Put it here.
Honours and Awards:
Have you been honoured for doing something or received an award for your professional talent? Put it here.
Test Scores:
These will mostly include a test you took for a course, but if you have a test score that you look at at the college and think is something to boast about, then put it here.
Language:
Know any languages besides English and your native language? Put it here.
Additional
Recommendation:
This section is for the recommendations or reviews you receive for your work. You can request that someone you've worked with give you a recommendation. But ask only those people with whom you've worked, so it looks genuine.
Supported Languages:
You can make your profile available in a language other than English. This feature comes in handy when you're working with clients who are not that familiar with your language.
That's it, guys! This is how I optimzed my profile, got freelance projects, and earned some extra cash.
Now go ahead and optimze your LinkedIn profile.
You can check out my profile here for reference.
I will soon be writing about how you can network on LinkedIn and generate more leads for your business.
Check out this post on how to keep your business consistent.
Till then, Tada.
Follow itisaditijain for actionable social media tips.
PIN IT!