We live in an age where most of us spend a considerable amount of time sitting in front of our laptops or computers. And you will not realise it now, but it will start to take a toll on your health gradually. I can't stress how important it is to remain active in this environment. Exercising keeps your energy levels high, keeps you engaged, fresh and happy throughout the day. Here are some of the easy exercises to stay fit you can do without doing much:
7 Easy Exercises To Stay Fit
Walking
Have you ever noticed that whenever you are on a call, and someone tells you to do something, you almost instantly do it without questioning? Even if it is to get something from the other end of the room. So why not put it to fair use? We all keep in touch with our friends and family through calls. So the next time you are talking to someone, start walking. Walk and talk. Start with short paced walks and then gradually increase your speed.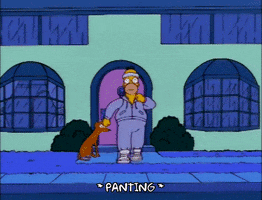 via GIPHY
Climbing Stairs
A lot of time, we feel tired after climbing a few steps. We look for an AC room or wait eagerly for the lift to help you reach your destination floor. But why use an elevator? Start taking the stairs. It is a great way to exercise and to maintain your stamina. Of course, if the desired floor is 8th or 13th, don't try this. But you can still use the stairs to get down. Try it once in a day and slowly you will build up the habit to use the stairs every day.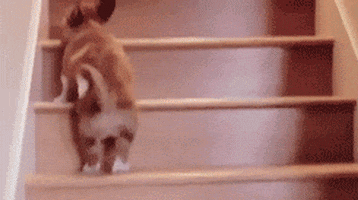 via GIPHY
Stretching
We sit in one position for hours and hours doing our work or binge-watching F.R.I.E.N.D.S the 100th time. But that tenses up your muscles, making it difficult for you to move. So after every 1 hour, take a walk. Just get up and take a walk to the other side of the room. Or stand at your place stretch you hands over your hands. You will instantly feel relief.
Here is one simple youtube video of how you should stretch.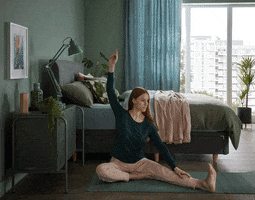 via Silentnight on GIPHY
Sides
Everyone usually focuses on wanting a flat tummy or getting rid of the belly fat. But what about the sides? You don't really pay attention to it. The side fat is usually the first to appear and the last one to disappear. Whenever you get time, just sit straight with your legs stretched and move to your side, i.e. right and left. Just move your upper body while keeping your legs straight and toes together. Do this 15-20 times, and slowly you will start to see the effect.
Here is one such video for your reference.
Lunges
We all have the back pains of an 80-year-old in our twenties. Lunges are a simple exercise of putting your one leg forward and bending while you keep your other leg straight.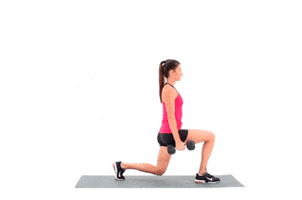 via Candy Magazine on GIPHY
Here is one such video to show you how you can do lunges.
Neck Rotation
We all tend to sit at one place and stare at the computers or phones for a long time. And in that process, your neck tends to get stuff, and it pains to move. Try this simple exercise to ease the pain – slowly move your head from left to right and then back to the left. Do this 5-10 times, and you will start to see the effect.
Here is how you should do neck rotation exercises.
Abs
Everyone wants a toned body. Your abs and your belly are the most important part, and they take time to get in shape. You cannot get a fit stomach just by sitting idle. You have to do exercises to get your desired results. Lie on your back on a flat surface and bend your knees. Try to raise your torso and get back while breathing in.
Here is how you should do abs.
Start taking little steps to take care of your body. It is the only thing that will stay with you throughout your life.
Are there any other simple exercises that should've made the list? Let me know in the comments section.
Follow itisaditijain for actionable social media tips.
PIN IT!