The one thing this pandemic did good was to get us started on our passions. I have so many friends who have started their own companies, their YouTube channel, their art page, their blog, and started showcasing their creative side and more. Having a business is not enough. You have to keep your business consistent.
If you have started any of the above, are you doing this regularly? Even if you are doing the above as a side hustle while doing a full-time job, it can become a big moneymaker in the future, and you wouldn't want to miss this. The only thing you can do is being consistent. Because right now, believe it or not, you are saving a lot of time by not commuting to work, not exploring restaurants and going to pubs etc.
Yes it is a difficult time for all of us, and there is absolutely no pressure on anyone to do anything; however, you also cannot deny that you will not get this time back and you have to milk it as much as you can.
7 Tips To Keep Your Business Consistent
Post Frequently – Out Of Sight Is Out Of Mind
Yes. Post frequently, regularly, consistently. It doesn't matter if you share 5 posts in a week or three posts in a week. Make sure you follow a routine. People remember what is happening now, not what happened in the past. Forget people; even you won't remember which post you saw yesterday. The only way your followers or your audience will know you are there is if you put yourself out there. Remember – Out of sight is out of mind.
Create A List Of Ideas
Take a pen and a paper or a notepad or open notes in your phone or make a draft email. Keep it in one place so that you have everything together and make a list of all the ideas you have – good, better, best, bad, worst anything. If you're just starting, you have to be steady. If you think your idea will help even one person, add it to the list – filtering can wait. Once you have your list, then segregate it into whichever category you want.
The key is to select the ones you like more and not removing the ones you don't like. Keep it in a separate note. Once this is done, you now have a list of category-based ideas you can work upon. Remember that ideas are not bad – it's the execution that's going to work.
My suggestion: Use excel for segregation. It is the best there is. You can create numerous tabs in one sheet. And everything will be in one place for you to work on.
Repurpose Your Old Content
You don't have to repost that same article again. But you can write it from a different perspective. For eg., You wrote an article about top shows to watch in 2019; you can now use that article to write about top shows to watch in 2020. Some topics are evergreen, and people will always be looking for them. You have to make minor changes, and you will have a new topic to work on.
Have a quote in mind? Post it on Instagram. Then you can expand more about it in a paragraph on LinkedIn, then elaborate more on it in your blog post. There you have it. One small idea and three posts ready to go.
Utilize Your Motivated Day
You know there are some days when you have the motivation to achieve everything? Yes, make the best of those days. Because for lazy people like me, those days are a rarity. And if you happen to be one of those then boy, you have to do everything you can because it doesn't last forever. Tick off everything in that to-do list of yours like updating that old blog, making creatives for your Instagram, replying to the comments, anything.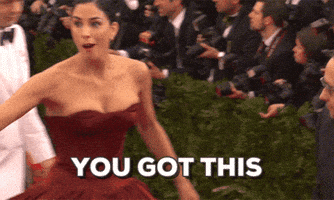 via GIPHY
Do It Now
Yes, the most obvious one but the most important one. Don't procrastinate. Don't put it off on tomorrow. Don't think you will remember it. If you start doing everything now, it will save you a lot of time in the future. You have a kickass idea of a blog, write it down. Thought of a free giveaway you can do for your audience? Make a plan to get it into action. Thought of new topics to talk in your IGTV video? Start making notes NOW.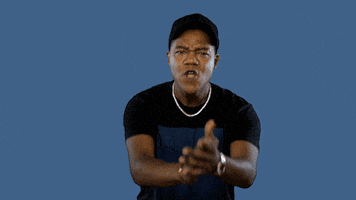 via Screen Media Films on GIPHY
Make A Plan
Make a plan. Have you ever made a to-do list for the things you want to do in a day and managed to get everything done? How did it feel when you ticked off that thing in your list? Amazing right? It's a great feeling when you accomplish something. Even if it's as small as getting up in time, make a plan of all the social media posts you want to schedule in a week or a month maybe more. Make a note of the number of articles you wish to publish in a week. How are you going to get more engagements for your business? Think about it and make a plan.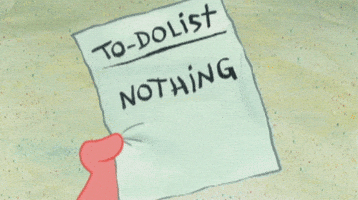 via SpongeBob SquarePants on GIPHY
Don't Think
The last point, don't think. As far as you're not being mean to anyone and aren't unethical or it is illegal, don't think. It's the start of your business. It is not going to be perfect on the first day. It's a business. Companies keep evolving every day because that's how you grow. If you start to think, let me get this thing right then I'll go live, or let me add this and then I will tell the world about my blog – trust me you are not going to go ahead much. Your content is everything.
As long as you keep providing value, people are going to come in. Slowly but eventually. No one is saying it shouldn't be perfect, but it also shouldn't stop you from doing things at all.
Let me know what you think in the comment box below!
Follow itisaditijain for actionable social media tips.
PIN IT!